Paradigm Accelerated Curriculum: English IV
This post may contain affiliate links. For more information, please read my disclosure policy.
Paradigm Accelerated Curriculum: English IV
Paradigm Accelerated Curriculum gave me English IV free of charge and paid me for my time to review the curriculum. All opinions are honest and I was not required to give a positive review.
Times of crisis hit, or we must focus on something other than English for a time. Why? A baby is coming. A child is concentrating on a large science project. We're moving. An opportunity to travel the world just dropped into our laps. Our ice-skating child just made it into the Olympics!
We can simply return to the basics, but when our kids are in high school we worry. We worry if they're going to be ready for college, university, and adult life.
At these times, we need a solid English program that is easy to implement. Paradigm Accelerated Curriculum offers just that: an excellent program with both digital and print options.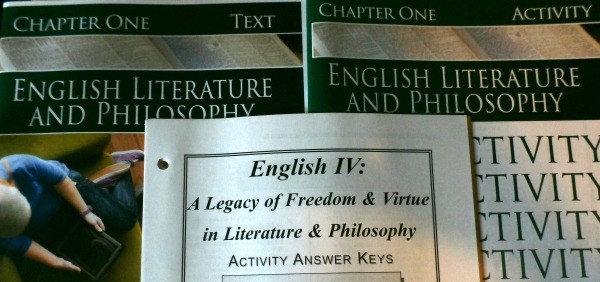 English Literature and Philosophy Package
When English IV: Literature and Philosophy appeared on my doorstep, we received quite a bundle!
English Literature and Philosophy includes:
4 chapter textbooks
4 chapter activity workbooks
1 Teacher's resource kit

Instructions for using English IV
Activity answer keys for all 4 chapters
12 section quizzes and answer keys
4 chapter tests and answer keys
Rubrics for writing assignments

Instructions on using Paradigm courses at home including:

Transcript Planner
Academic Contract
Academic Goal Chart
In addition, you can purchase digital downloads of the 4 texts, 4 activity books, and the teacher's resource kit. Digital downloads can be used with children or families who prefer not to use physical books.
There is also audio-enhanced learning included in the digital downloads. You'll need the appropriate text to speech software to access the audio-enhanced learning though.
PAC is in the process of incorporating QR codes into all of its courses. This will allow students to access extra content on their smartphones! As of now, the only course with this technology is biology.
Format of English IV
English IV is divided into 4 chapters. These 4 chapters cover topics which include:
Early American Voices
Poetry
Prose
Great sermons and speeches
Short stories
Fairy tales and myths
Drama
Novels and novelists
Biographies and autobiographies
Ancient writings
Bible as literature
Philosophy and philosophers
Literature of the dark ages
Medieval writers
Each chapter is divided into 3 sections and 15 lessons. Each section concludes with a quiz, and each chapter ends with a test. Altogether there are 12 quizzes and 4 tests. If your child receives an 85% or better on the quizzes, you have the option of skipping the chapter test.
The textbooks contain all of the needed readings for the course. The activity books include directions written to the student, directions are written to the teacher, and all the questions to be answered. You need both to complete the course.
How We Used Literature & Philosophy
To be honest, I handed my son the chapter 1 textbook, the corresponding chapter 1 activity book, and the chapter 1 answer sheet. Wasn't that easy! Each day he read the appropriate section in the textbook. He then opened the activity workbook, followed the directions, and answered the questions.
The questions in the activity workbook range from fill in the blank, multiple-choice, to written responses. Explain why, how, who, where, or what was happening in the reading assignment. Most responses are short answer and written right in the workbook. A few answers require the students to respond on separate paper.
The activity answer key is designed to be used by the student. Most questions have answers, but periodically one simply states: Graded by Teacher. That made it super easy for us. He read the text, did the work, and graded it.
As we reach the end of each lesson, chapter 1 is divided into 15 lessons, there are notes to the teacher. These notes include advice that the student should start a notebook to accommodate all written assignments on separate paper, which questions are to be graded using the rubric in the teacher's resource kit, and which questions are comprehension strategies. There is even space for the teacher's signature so it's easy to check and ensure each lesson has been completed.
Paradigm Accelerated Curriculum wasn't completely hands-off, but it was designed to be easy to use. Each day the student sits down and completes the work himself. Once or twice a week the teacher reviews and grades the appropriate questions using the rubric. Every few weeks the student completes a quiz. At the end of the chapter, a test is taken.
The ease of use, combined with the option of using just the digital versions, makes English IV: Literature and Philosophy a wonderful curriculum to purchase when you need a high-quality, open and go, English curriculum for your teenagers.
Paradigm Accelerated Curriculum Discounts
40% off
homeschool groups (minimum purchase $1000)
single parents
20% off
ministry families
military families
farmers and ranchers
first responders
foster parents
Call Paradigm Accelerated Curriculum at 325-649-0976 for a discount code to use during the checkout process if you fit into one of these categories. 
Don't forget to follow Paradigm Accelerated Curriculum!