Introducing the Masterpiece Society
My last art class was in the 6th grade. Since that time I've specialized in stick figures.
I was delighted to receive a free subscription to the Masterpiece Society to review and discovered it's just as delightful as it looks! All opinions are my honest opinions and I was not required to post a positive review.
But my kids adore art. They scribble, draw, and sketch. I've longed for someone to teach art to my kids…at home!
Someone who could teach them about the masters such as Leonardo da Vinci, Rembrandt, or Monet. Someone who could teach them about the different techniques and mediums. And someone with fun projects to complete. So I was delighted when Alisha gave me a membership in her Masterpiece Society.
Because that's just what Alisha's Masterpiece Society offers. Videos that teach your kids art!
Introducing the Masterpiece Society
When you're getting started, easy is always best. So my two youngest and I sat down at the table with basic art supplies: paper, pencils, markers, and crayons. I grabbed my laptop, opened up the Step-by-Step Drawings (K-2) in the Masterpiece Society Studio, and started the first video: planes.
Step-by-Step Drawings (K-2)
Alisha's video was perfect for their level! The instructions were easy to follow and moved at a comfortable pace. And the perfect length. 5 minutes.
I don't know about your kids, but my young kids don't sit for hour-long classes yet. 5 minutes, 10 minutes, even 15 minutes are good. But an hour? Way too long!
The plane lesson was 5 minutes long. The perfect length for young attention spans.
My biggest problem was the kids wanted to start over every time they made a mistake. I finally decided to allow replays but no stopping in the middle. It was too rough on the child who hadn't made an error.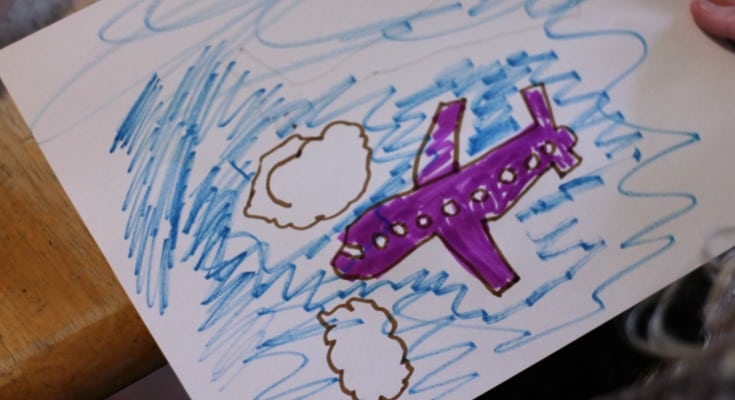 The kids loved their airplanes. My daughter insisted on starting the next lesson, apples, immediately. My son and I hung his pictures on the fridge before he disappeared to play.
After working on apples, bats, birds, and balloons, my daughter and I decided to switch gears for a time. And that's what's so awesome about the Masterpiece Society Studio membership. We have access to all the art courses for kids and teens!
My daughter and I headed over to the Holiday Art Lessons to check out the Valentine's Day lesson.
Valentine's Day Lesson
I was truly impressed. The Valentine's Day Lesson began with a brief art appreciation lesson about a modern artist, Jim Dine (b. 1935). Apparently he's famous for his pop art hearts.
Once my daughter and I read through the brief lesson, I grabbed more paper and offered to grab paint. She refused and insisted on working with her beloved scented markers. Who am I to complain! In this case, the artist is always right.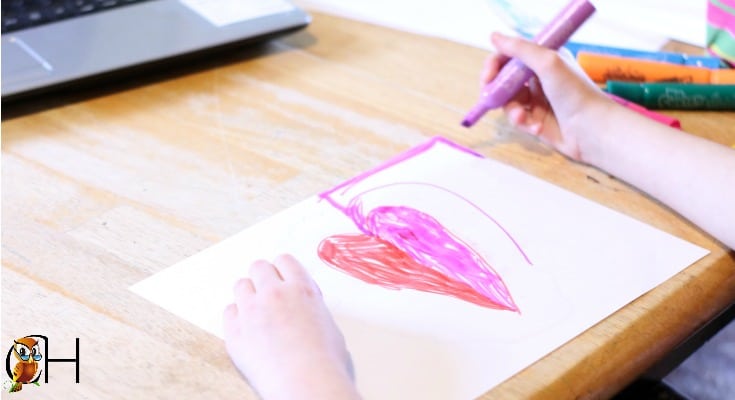 She had a marvelous time creating her abstract hearts.
Then I took off to discuss algebra with her older brother and expected her to play games on the computer.
Nope.
Instead, she went back to the Step-by-Step Drawing to create flowers, bees, and a bunny.
Later I'll grab all the kids and work through the Mixing with the Masters series.
That's what makes the Masterpiece Society Studio so amazing!
You get full access to all the kid and teen classes for an entire year!
You can mix and match the classes. Do a couple of lessons out of the Step-by-Step Drawing class before working picking a couple of lessons from the Valentines Day Mixed Media Workshop to complete. Give your kids a spontaneous lesson on Pet Portraits!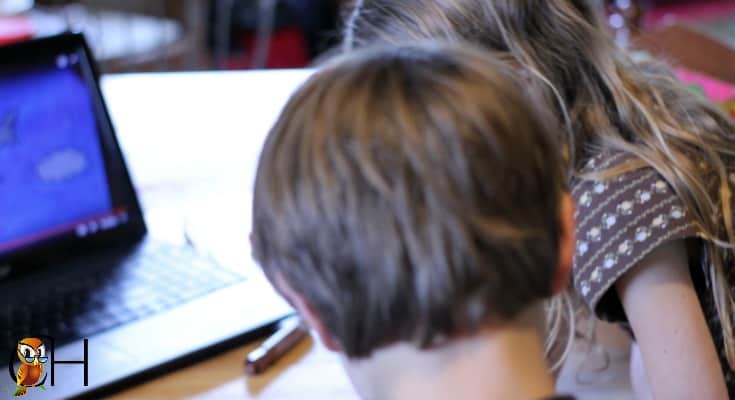 And there a new classes coming in the spring. New classes such as Art School Drawing 101, Watercolors 101, Acrylics (& Oils) 101, and Pastels 101. New classes that you'll have access to as soon as they're available!
Alisha's classes are well-paced, detailed, and encouraging. My kids love her tutorials!
So if you're looking for an art instructor who can come into your home and give your kids art classes this year, check out the Masterpiece Society Studio. You'll get access to all these classes:
Celebrate Summer Mixed Media Workshop
Coloring Pages for Preschoolers
Create & Connect for Moms
Holiday Art
Mixing with the Masters, Volume One
Mixing with the Masters, Volume Two
Playful Pets Portraits Mixed Media Workshop
Springtime Splendor Mixed Media Workshop
Step-by-Step Drawings (K-2)
The Art of Fall Mixed Media Workshop
Valentine's Day Mixed Media Workshop
Winter Wonderland Mixed Media Workshop
Art School 1 – Drawing 101 (coming March 2018)
Join Alisha's Masterpiece Society Studio today!!!