Give Your Kids Piano Lessons at Home
This post may contain affiliate links. For more information, please read my disclosure policy.
Have you thought about giving your kids piano lessons at home?
I received The Revolutionary Piano Method for free and was compensated for my time. All opinions are my honest opinions and I was not required to post a positive review. For more information, please read my disclosure.
As a child, I begged my mom to let me take piano lessons even though we didn't have a piano.
When I was 11, we finally got a piano and I started the lessons I would continue to take until I left home for college.
And my husband and I keep a piano in the house for me to play
I always meant to teach the kids to play the piano, especially as music is an important component of classical education. But life got in the way. I never quite had the time or energy to give my kids formal lessons.
So the kids ended up teaching themselves piano.
But the problem is that most beginning piano books are meant to be formally taught by a teacher.
My kids skipped over critical information.
Especially as our method for piano lessons at home ended up with the kids working through my beginning piano books playing the pieces they liked, asking me questions as they went.
And my children ended up with holes in their musical understanding resulting in conversations like this:
Me: You need to check the key signature.

Kiddo: What's a key signature?
One of the kids learned to play by ear beautifully but struggled with reading music.
As a result, I needed a method to fill in the musical gaps and teach children to read music. A method that would hold my kids' hands as they learned. And one that was adaptable to my family's approach to piano lessons at home.
A method where I answered questions and gave guidance, but I didn't need to be hovering over the keyboard while they practiced.
This is why I was thrilled to discover the Revolutionary Piano Method!
The Revolutionary Piano Method has a small amount of information at the beginning of the book for the teacher to read through, but the bulk of the book is written to the student.
One concept is taught at a time and the kids practice that concept for several pages before the next concept is taught.
I love how much practice my children get with each concept. It truly helps to cement the concepts in my kids' heads.
Plus the Revolutionary Piano Method doesn't take anything for granted. In the second book, the rules about naturals are taught on one page. The same with the rules about sharps and flats.
This makes it easy to stick a paperclip on the page so the kids can refer back to the information whenever needed!
Let me tell you, I adore the careful and methodical approach the Revolutionary Piano Method has towards teaching piano lessons at home!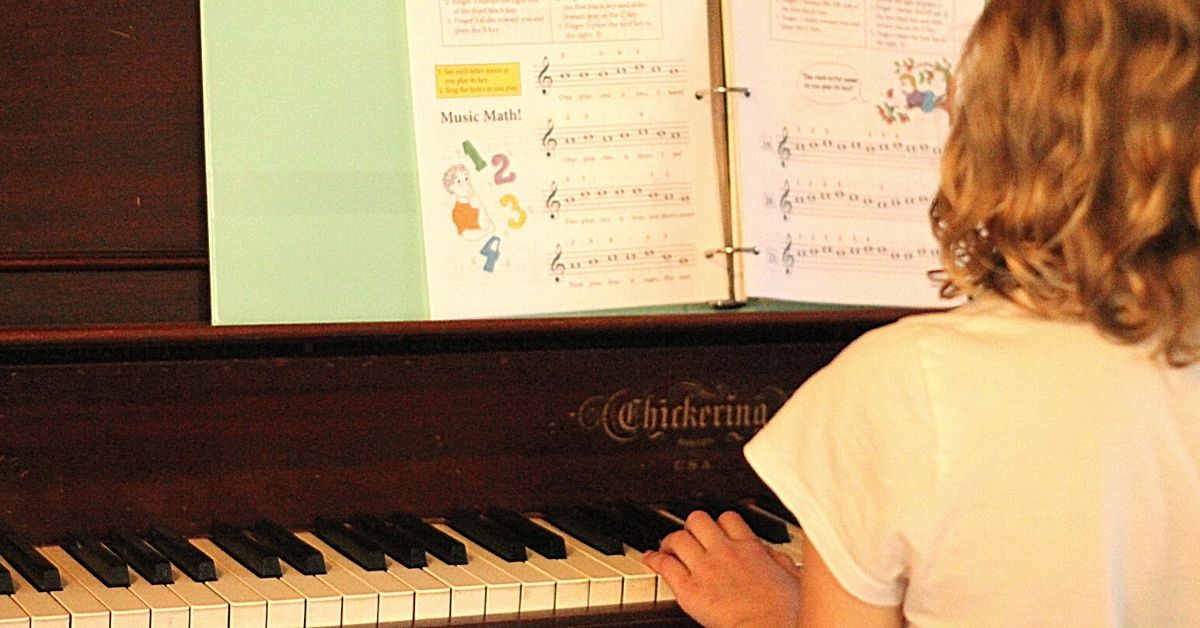 More Info about this Piano Teaching Method
The Revolutionary Piano Method was developed by Leslie Young over 40 years of teaching. And here's what she has to say about it:
Though singing and the playing of rhythm instruments are a wonderful introduction to music and some of its elements, the student's cognitive abilities supremely develop through the reading and performance of written music, quite similarly to learning a foreign language. The reading and performance of written music is a great enhancement to a student's development as a lifelong learner.

During my 40 years of piano teaching experience with individuals and school classes, I have developed a unique method of teaching piano keyboard and notation reading. The Revolutionary Piano Method is the result of my work and comprises two series of manuals: one for the very young student, aged three to five; one for the older student, aged six and older.

I have seen the progress the very young achieve in attention span, following directions, visual tracking, finger dexterity, and alphabet letter recognition and writing – all due to brief, individualized keyboard lessons which gradually increase in length.

The inclusion of personalized piano keyboard playing with notation reading to your established curriculum would be beneficial to students, especially during this current time of uncertainty with the pandemic. These lessons could be a part of the daily schedule at a physical school, accomplished online with students at home, or added to resources for parents. Teachers, teacher aides, and classroom volunteers do not have to have any knowledge of reading music or playing the piano, as the lessons are detailed and easy to follow. They would read the directions and ensure that the student complies.
My own child's ability to read music has dramatically improved since beginning to work through the books!
Plus, you should know there's also a Revolutionary Piano Method Itty Bitty for the Young Student ages 4 to 5.
This series covers the same material as the older student series, but at a much slower pace. After completing the fifth level, the student would continue in the course for older students, starting at Level 2.
Here's more information about the two product lines:
The Revolutionary Piano Method that my family uses for piano lessons at home is for students ages 6 and older. There are 30 books in this line.
Lesson Book (levels 1-4)
Theory Book (levels 1-4)
Just the Answers to Theory Book (levels 1-4)
Fun Book (levels 2-4)
The Revolutionary Piano Method Itty Bitty is for the young student, ages 4-5. There are 30 books in this line as well.
Lesson Book (levels 1-5)
Theory Book (levels 1-5)
Just the Answers to Theory Book (levels 1-5)
If you'd like any more information, you can email any and all questions through The Revolutionary Piano Method website and receive a quick answer.
So head over and check out The Revolutionary Piano Method so you can start piano lessons at home too!