Thiel College: Ideal for Homeschoolers
I was compensated for my time reviewing Thiel College, writing this review, and hosting the giveaway.
Are you looking for a small, intimate college for your homeschooled teen? Then you should check out Thiel College! It's located in Greenville, PA which is a small community 90 minutes from Pittsburgh and Cleveland.
Thiel College is Located in Greenville, Pennsylvania
Greenville, Pennsylvania is a unique location for a college. It's a small town of about 5,700 residents set in Western Pennsylvania.
The small-town location means students can enjoy many outdoor activities such as kayaking or tubing. There are hiking and biking trails to explore. Your child will be able to get outside and enjoy the fresh air!
Plus Greenville Pennsylvania is close enough to Pittsburgh, Cleveland, and Youngstown that your child can also experience a robust enrichment program that includes cultural and educational trips. After all, Pittsburgh and Cleveland are only a 90-minute drive away. And Youngstown is even closer! It's a 40-minute drive between Youngstown and Greenville.
The result? At Thiel College, your child can have the best of both worlds: diverse cultural experiences provided by cities and the outdoor activities available in small towns!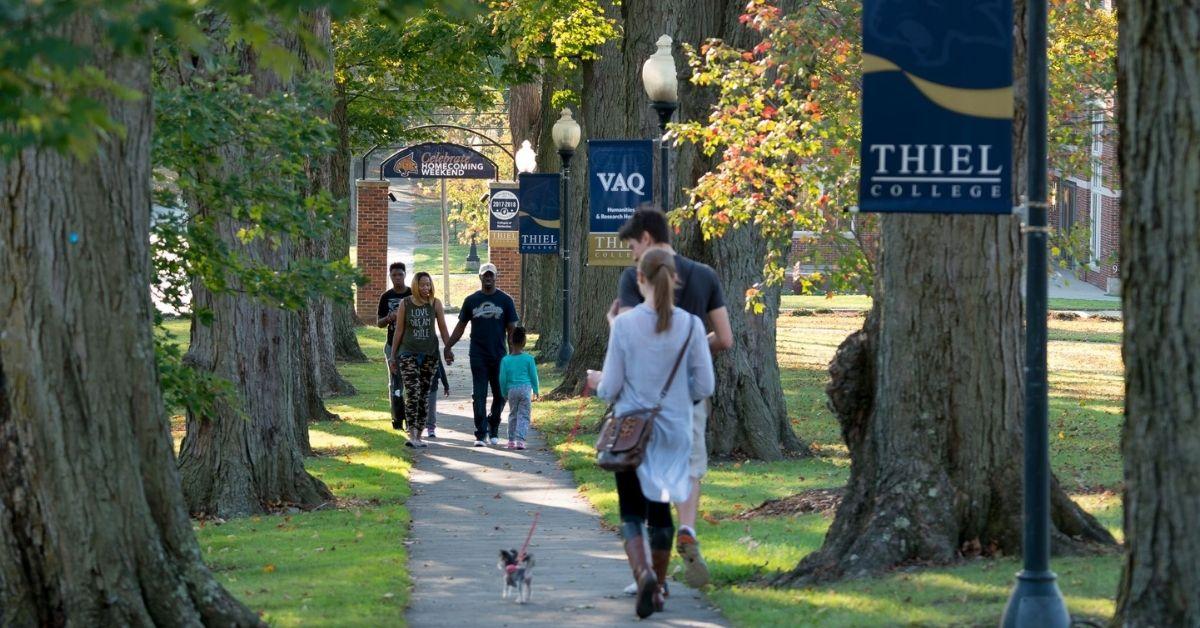 Ideal for Homeschoolers
Thiel College is a wonderful place to consider sending your homeschooled high school student. With the low student to instructor ratio of 11:1, your teen will not be lost in the crowds. In fact, 70% of the classes have less than 20 students!
This is important to me because I know from watching my older kids head off to college that it's an adjustment to move from homeschooling to a classroom setting.
Plus most students (95% of them) live on campus. If you're sending your child away from home to live in the dorms, this is critical. Nothing is worse than sitting by yourself unable to make friends since everyone else lives off-campus.
Thiel College also has over 100 clubs, teams, and organizations. Your teen will be able to find activities they enjoy participating in!
Does your child dream of heading overseas to study abroad? Students at Thiel College benefit from an enrichment program that offers opportunities to study abroad. In addition to offering cultural and educational excursions to major metropolitan areas.
Excellent Academics
Thiel College offers more than 60 areas of studies and all of their students complete one or more internships or a practicum before graduating. And they have an invitation-only Dietrich Honors Institute that offers a custom curriculum developed for its members
Did you know that 95% of their graduates report that within three months of graduation the student has been employed or is studying in their field? Many graduates go on to study at top institutions like Duke, Harvard, Oxford, University of Chicago, Vanderbilt, and Yale.
More about Thiel College
Thiel College has been making recent facility investments that include $11 million in new science facilities and equipment.
And they awarded more than $14.2 million in undergraduate grants and scholarships last year!
In addition:
Thiel has a highly engaged network of more than 15,000 alumni.
The 37th edition of U.S. News and World Report Best Colleges ranked Thiel College as the top school in western Pennyslvania overall.
It also recogonized Thiel for the social mobility of its graduations among the Regional Colleges in the North.
Thiel College consistently appears on the Forbes list of Grateful Grad Colleges: The Top 200 Show-Me-The-Money Schools.
Thiel joins Carnegie Mellon, University of Pittsburgh and Princeton as premier institutions recognized by the Dietrich Foundation for their commitment to higher education and championing student success.
So if you want to send your child to a small, intimate, Christian college that will set your child up for success, then you should check out Thiel College!