9 Awesome Homeschool Planners to Choose From
It's planning season again and time to find the best homeschool planners to use!
So, have you picked out your homeschool planner for the 2022-2023 school year?
Some of these planners are printed and shipped to you, while others are digital downloads that you can print. Some planners are expensive and have all sorts of whistles and bells. Other planners are free and are able to be customized to fit your specific needs.
Take your pick. These are nine of my favorite planners. And in the last 20+ years of homeschooling, I've tested quite a few!
9 Best Homeschool Planners
1. Homeschool and Day Planner
The Homeschool and Day Planner is the undated planner I created and used.
There are monthly and weekly pages. Each weekly page spread is immediately followed by that week's homeschool planning pages. Personally, I keep a paper clip to mark my spot so I can easily flip between my weekly homeschool plans and my weekly appointments and to-do list.
In addition, there are lined note pages. You can use these for brain dumps as I do, monthly to-do lists, books to read, books read, or simply an easy spot to jot a quick note to yourself.
The Homeschool and Day Planner includes pages to plan your homeschool year! I don't know about you, but I've been caught at the library and needed to know what topics a child would cover. Having my homeschool plans on my has saved my bacon more than once!
All you need to do is to print as many copies of the planner as you need. Then personalize it to your heart's content.
You'll find the Homeschool & Day Planner in my free resource library for subscribers!
2. A Plan in Place for my year
A Plan in Place offers personalized homeschool planners to make your days more productive. The trick to these planners is that you can customize the weekly schedule to meet your needs.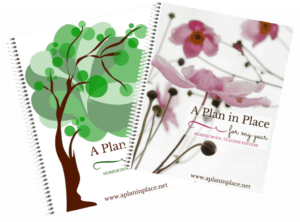 The Plan in Place teacher edition begins with a section for goals and planning. You have pages to plan your family's mission. To brainstorm ideas for your kids, work, co-ops, field trips, and more. There are sheets to plan your curriculum resources and your homeschool budget. And there are even pages to help you plan field trips and your family's meals!
You have the option of adding in monthly calendar pages, which I took. I find it vital to have a large monthly view to plan vacations, field trips, and schoolwork around other events. Monthly calendars prevent me from overscheduling my weeks.
In addition, there's a section of the planner devoted to record-keeping and notes. This section allows you to record healthcare information, resource information, important dates, expenses, etc.
The best part of A Plan in Place planners is the weekly plan.
The weekly plan pages are customizable to fit your needs. You can choose to use one or two pages per week. You can list the days of the week along the top or keep the top row blank. Do you want a planner that uses a row for each child or do you prefer a planner with a row for each subject? Or do you want a planner that's organized by subject and child?
The options are endless!
And if you're overwhelmed by trying to customize your planner, you can choose the stock option which gives you the ability to adjust your planner week by week to meet your needs.
So if you're looking for a personalized homeschool planner that will fit your needs no matter how many children you have, check out A Plan in Place!
3. Weekly Homeschool Planner
The Weekly Homeschool Planner is not dated. And it's an editable, and printable e-book. This means you can edit the pdf document to include months, subjects, lesson plans, and more.
Then you print it up for the year and can either keep it in a 3-ring binder or take it to be spiral bound.
There are many handy pages, such as a page to track the legal requirements for your state. The weekly pages are in grid form with a journal section able to be placed across from it.
I'm falling in love with the format. I have the grid to track individual assignments, but the journal notes preschool plans, needed discussions, and points I want to remember.
Click here to view more details
4. The Well-Planned Day
The Well-Planned Day Homeschool Planner includes room for contacts, pages for home management and meal planning, as well as articles, tips, and the organization pages you need to plan your homeschool. It's an all-in-one planner.
The main subjects are labeled down the side. The biggest issue for me was the labeled subject list and, more importantly, that it only included pages for 4 children when I was homeschooling 6 children.
I preferred to plan for all 6 of my children, not just the 4 oldest or youngest. But if you're homeschooling 1-4 kids, the Well-Planned Day Homeschool Planner is amazing!
5. The Catholic Daily Planner

The Catholic Daily Planner is a beautiful daily planner. You can purchase just the daily planner or add the homeschool planner to it. It's a simple, but effective, table.
My problem last year was that I ruined it by planning out the year on it. I needed to see the plans so I knew what we were doing, and I loved having the needed science supply list at my fingertips.
However, we changed our language arts plans and timetable after the first quarter. That meant I needed to erase the plans. Since I'd written in ink, I tried liquid paper.
Liquid paper leaves quite a bumpy surface when it dries and is hard to write on. So I gradually stopped using the planner, which sits on my desk.
The best part of the planner was being able to keep track of all my to-dos, meal plans, appointments, and homeschool plans all in one place. Destroying the homeschool planning part was unfortunate.
6. A Simple Plan, Homeschool Planner
Mardel offers a simple homeschool planner called A Simple Plan. There are no whistles and bells. Instead, you get a homeschool-focused planner. It's a 12-month planner with room for up to 6 students!
Yearly overview pages allow you to get the big picture yet the weekly scheduling pages have enough room for you to schedule a large family!
You have room for reading lists, grading charts, and attendance trackers.
There's even a spot for prayer requests!
Yearly overview pages allow you to get the big picture yet the weekly scheduling pages have enough room for you to schedule a large family! You have room for reading lists, prayer requests, grading charts, and attendance trackers.
If you're looking for a homeschool-focused planner, A Simple Plan could be just what you're looking for!
7. PurpleTrail Homeschool Planner
PurpleTrail offers a beautiful homeschool planner with several different options to customize the planner to fit your needs and keep you organized during the school year. You have the choice of a large 8.5″X11″ planner or a smaller 6″X8″ planner. Personally, I love the smaller size. It fits in my hand beautifully.
Each month has its own tab so you can easily flip to the correct month of the school year. When you flip to the current month, you'll find a page that gives you a quick overview. You can see your monthly focus, goals, supplies needed, curriculum resources, and your budget. There are also a few lines to quickly jot down things to remember.
The weekly sheets are dated and give you the option of listing children or subjects down the side. You also have the option of leaving the rows blank giving you the flexibility you need to adapt to changing circumstances throughout the year. At the bottom of the weekly pages, you have a section designed to be your to-do list. This section is perfect for keeping track of chores, pages you need to print, calls you want to make, and any other small task that comes up during the course of your homeschool day.
The planner also includes a section for unit plans! These pages are perfect for planning unit or family studies you'll complete throughout the school year.
PurpleTrail's homeschool planner has everything you need to stay on track. And more importantly, it's designed to be a planner you'll love to use!
Click to learn more about the PurpleTrail homeschool planners.
8. Home Education Planner
The Home Education Planner is a Charlotte Mason homeschool planner. It's a PDF download that allows you to print as many or as few of the 40 different types of pages you need to plan your homeschool.
You'll find monthly planning pages, Advent planning pages, booklist pages, a list of supplies needed by month, a nature walk checklist, daily chores, mother culture, inspirational quotes, morning meeting pages, subject notes, both the 2021 and the 2022 calendars, and more!
There are even pages to set your big picture goals and questions to ponder as you plan your homeschool.
The Home Education Planner is a planner that walks you through setting up a Charlotte Mason homeschool!
9. Tina's Dynamic Homeschool Plus

Tina at Tina's Dynamic Homeschool Plus has wonderful paper homeschool planners you can create.  Her seven steps walk you through the process of creating personal paper homeschool planners from start to finish.
There are beautiful cover sheets and various styles of printables. Plus the planner is able to handle up to 6 children. I've tried it myself. There is enough room to draw a line and still have plenty of space to write notes about what each child needs to cover that day.
I've found I prefer to sacrifice the space of a daily planner so I can see the entire week. It means I don't have as much room to write detailed lesson plans.
This doesn't make much difference for me as my older 4 children independently work off their own personal planners. I simply have to stay on top of my children's studies and maintain quality control.
I've Tested Many Paper Homeschool Planners
As you can tell, I've tried many paper homeschool planners over the years trying to find one that truly fits my style of homeschooling, especially as the children have grown older and more independent.
In the end, I keep coming back to my own Homeschool and Day Planner. Not only can I keep planning my homeschool, but it allows me to keep track of my entire life!
RECOMMENDED READING
Books:
Links: