Stop the Struggle: Amazing Math Videos for Middle School Math
This post may contain affiliate links. For more information, please read my disclosure policy.
Have you seen these amazing math videos for middle school?
I received an all grades year's membership for free and was compensated for my time. All opinions are my honest opinions and I was not required to post a positive review. For more information, please read my disclosure.
Middle school math picks up a notch.
No longer are you teaching kids addition, subtraction, and fractions. You're now introducing scientific notation, compound probability, and the Pythagorean Theorem.
Don't you wish you could have someone teach math for you? That's just what Nicole the Math Lady does!
Nicole the Math Lady teaches middle school math. In fact, she loves teaching middle school math in a lively, fun, and wacky way. She's that awesome math instructor who makes math fun.
Just take a look at how Nicole teaches math using what she calls Nicoleisms: tips and tricks which make math so much easier to remember and understand.
These little pointers are what make the difference between a good math instructor and a poor one.
And Nicole uses these little tips throughout her videos. Let me tell you, these little tips make all the difference in learning math.
Nicole keeps the videos short by not teaching 100 concepts at a time. Instead, she keeps to 1 concept covered in a short lesson. In short, we're talking videos less than 10 minutes long. If you have a middle school kid in your house, you know as well as I do that their attention spans are incredibly short.
Short, lively videos are the only way to go!
Drop by Nicole's YouTube account to see more samples of her teaching style. In fact, the odd-numbered lessons for Saxon Math are provided there for free!
Middle School Math
While her YouTube account provides the odd-numbered lessons, all the lessons and the practice sets for Saxon Math are provided on Nicole the Math Lady's website. In addition, there's a section on her website which lists all the videos by topic making it easy to find exactly the concept you need to cover.
Now Saxon Math has 3 parts to each lesson.
The first part teaches the lesson of the day. Remember Saxon Math teaches in incremental steps. I like to think of them as baby steps, as each lesson introduces a new piece of the math puzzle.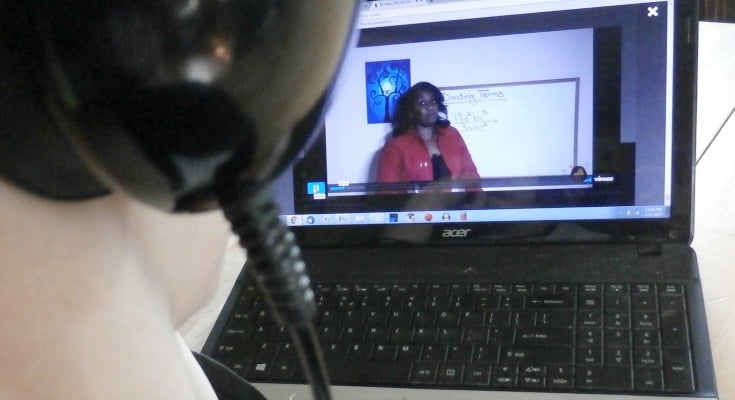 Nicole the Math Lady teaches the lesson of the day in one or more videos. This is because Saxon Math often reviews several math concepts at the beginning of the textbook, before slowing down to 1 concept per lesson as you reach new material.
Nicole doesn't group the concepts together. They're kept separate so you can easily find the concept you need to review without wading through 3 or 4 others. I can't tell you how handy that is!
The second part of each Saxon Math lesson includes practice problems. Kids get a chance to practice the concept they just learned.
Nicole includes practice problems as part of her lesson, but she doesn't use the same problems as those in the book. She comes up with her own problems! And her format is awesome.
First, she writes the problem on the board before telling kids to pause the video. While the video is paused, the kids work on the problem on their own. Once it's solved, they restart the video to see Nicole solve the problem.
This is an amazing method of ensuring kids really do understand what they're doing before leaving them to finish the lesson.
The third part of Saxon Math is the problem set itself. These problems are left for kids to complete on their own at home.
In between the math lessons and the practice sessions, Nicole includes a Corny Brain Break. Let's face it, we all need an interjection of humor when studying!
But what if you don't use the same edition or use a different math curriculum altogether?
Nicole also lists the math concepts by topic so you can easily find the topic you need! This is awesome for using the list with a different curriculum, for extra practice, or to review an old concept. Just look through the topics until you find the lesson you need. It's as easy as that.
You no longer need to worry about teaching middle school math!
Learn More About Nicole the Math Lady
Nicole the Math Lady Yearly Membership
Single Membership – $49 a year
All Grades Membership – $79 a year
There's a free 1 week trial for Nicole the Math Lady. This gives you the perfect opportunity to try out Nicole the Math Lady and see how it will help your family!
Code: Free1Week-nhi