How to Enjoy Homeschool Morning Time with Your Family
This post may contain affiliate links. For more information, please read my disclosure policy.
inside: how to enjoy a beautiful homeschool morning time with your family without going crazy
I was a classical homeschool failure. No matter how hard I tried, I couldn't consistently get history, science, art, and music done with the kids.
I was convinced that reading, writing, and arithmetic MUST come first no matter what. We started the day with math. I fought kids through reading, writing, and grammar.
I was exhausted by the time the fun subjects popped up on the schedule.
And then I discovered the secret held by awesome homeschool moms!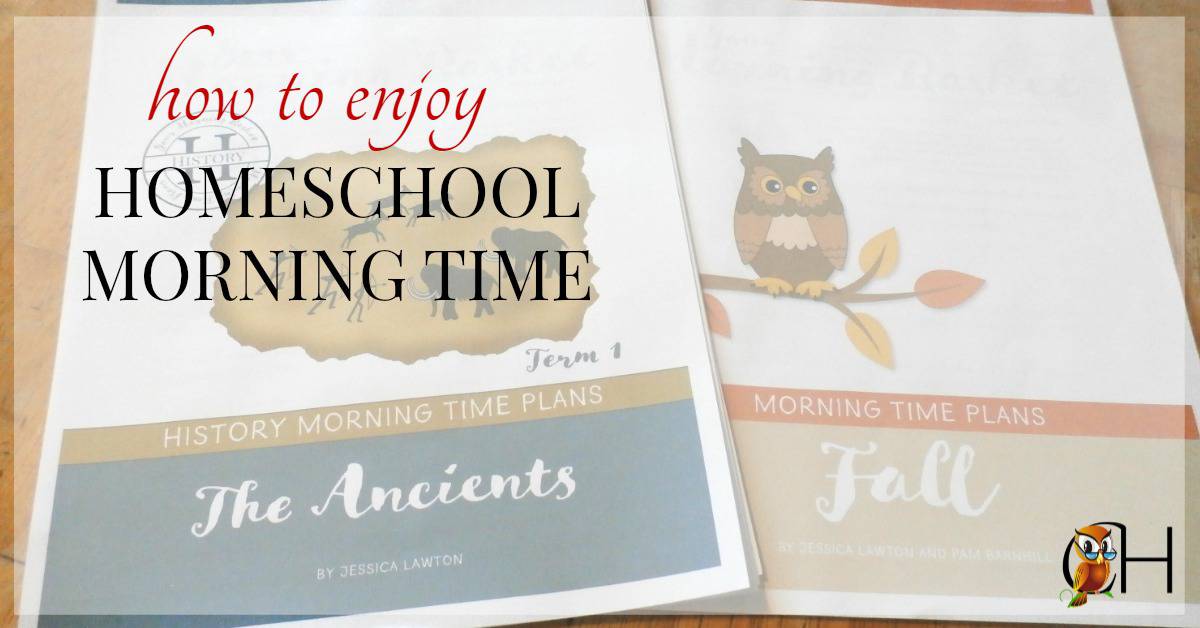 I received Your Morning Basket for free and was compensated for my time. All opinions are my honest opinions and I was not required to post a positive review. For more information, please read my disclosure.
Homeschool Morning Time!!!!
The idea is simple. Instead of ending the day with poetry, art, music, history, read alouds, and nature study, begin your day with these subjects.
First you gather all your children. Read a classic children's book to your kids. Pull out the paints. Recite poetry together. Read about the Egyptians or knights in shining armor. Study a pine cone on the table.
The idea is to start your day covering the subjects most likely to be skipped. What's amazing is even the kids' brains start chugging. Morning time inspires the family and gets the kids ready for reading, writing, and math.
Homeschool morning time has worked it's miracle again!
I was lost the first time I attempted to add morning time to my homeschool. How should I begin? What poems should I have my kids memorize? How long should I plan for each subject?
Homeschool morning time stressed me out.
Morning Time Lesson Plans
But often you can't plan.
There's too much going on. You don't have the time it takes to find a poem to memorize, to figure out what you're doing for art, picture study, and music is exhausting.
Quite frankly planning takes time and energy you don't have.
As for myself this year I divided my kids in half.
The oldest two are both in high school. They're studying chemistry, modern history, and reading the Great Gatsby. My little 1st and 2nd graders can't keep up with a high school level morning time.
I bore the teens when I try to include them with my youngest two kids. The teens learned this information a decade ago and don't need yet another repetition of The Little Turtle. They already know it.
But the last thing I wanted to do was to double my planning time.
So I went browsing Pam's shop and discovered Pam now offers an entire series of morning time plans!
These plans are awesome. Some plans coordinate with the seasons.
Other plans follow the liturgical calendar.
And there's even a group of plans for history!!!!
My little ones are studying the ancients so Ancient Term One Morning Time Plans is perfect for us.
Ancient Term One Morning Time Plans
Aimed for 1st – 6th graders, these plans are awesome! Kids learn the various instruments of the orchestra, just like the Well-Trained Mind recommends!
The nature study lessons use Exploring Nature with Children. Have I mentioned how much I love, love, love Exploring Nature? It's a delightful and easy year-long nature study curriculum to use with your kids.
Poetry is provided in the plans so you don't have to go searching for just the right poem for your kids.
In the Ancient Morning Time Plan, kids are introduced to Babel by Lola Ridge, The Egyptian Tomb by William Lisle Bowles, and the Destruction of Sennacherib by Lord Byron among others.
The morning time plans even include Bible verses and prayers!
Kids learn geography. They study fun math concepts. And there's even excellent children's literature to read aloud.
Everything you need for an awesome and enjoyable morning time is there!