English Lessons Through Literature Level B Review
This post may contain affiliate links. For more information, please read my disclosure policy.
A review of English Lessons Through Literature Level B.
I received English Lessons Through Literature B free in exchange for a review. These are my honest opinions and I was not required to post a positive review.
One of the hardest things to do is to find a curriculum that's a good fit for your family.
As a classical homeschooler, I want a curriculum that's rigorous and will challenge the kids. At the same time, I want a curriculum that doesn't take all day to complete. And that's what I've found in English Lessons Through Literature Level B!
I've been looking for an English curriculum that truly fits my family and our needs for some time now.
My ideal curriculum is a complete language arts program without too many moving parts. It needs to include thorough grammar instruction. It would teach writing through progymnasmata exercises.
Literature would include beautiful classic children's literature. And it would be doable, meaning the curriculum wouldn't cause my kids and me to burst into tears of frustration every few days.
Guess what, that's just what I found in English Lessons Through Literature!
It's a complete language arts curriculum that combines a classical education approach to language arts with a Charlotte Mason approach. Or as it's put on the website:
Classical Mason: Homeschool curricula with a classical education, Charlotte Mason, twaddle-free flair.
I love the Classical Mason approach. It's amazing and it's been a wonderful part of my homeschool curricula this year.
Beautiful Classic Children's Literature
The literature used for English Lessons Through Literature B comes from great classic children's literature in the public domain. You can find many of the selections at your library, for sale on Amazon, in Project Gutenberg, or the Baldwin Project. Many are also available as audiobooks.
The books in Level B are:
The Wonderful Wizard of Oz by L. Frank Baum
The Blue Fairy Book by Andrew Lang
Peter Pan by J. M. Barrie
The Wind in the Willows by Kenneth Grahame
Alice's Adventures in Wonderland by Lewis Carroll
Through the Looking-Glass and What Alice Found There by Lewis Carroll
A Wonder-Book for Girls and Boys by Nathaniel Hawthorne
I adore the selection of literature! Many of the books are ones I've planned on reading to the kids and simply never got around to reading them aloud. So I decided to add the books to our morning time.
For us, this means that my 3rd and 4th grader and I sit down at the table. The kids color while I read aloud from The Wonderful Wizard of Oz. Since English Lessons Through Literature works slowly through the books, we usually only have about three chapters a week to read. It's been harder not to pull ahead in our readings that it has been to keep up! Especially when the kids keep asking to read another chapter.
And there's no reason you can't use these books are audiobooks to listen to while in the car, bedtime stories, or hand the books to your child to read to themselves.
The beautiful part of the curriculum is that while the exercises and copy work are pulled from the literature and if you loathe the book, you can skip it. The exercises and copy work stand on their own.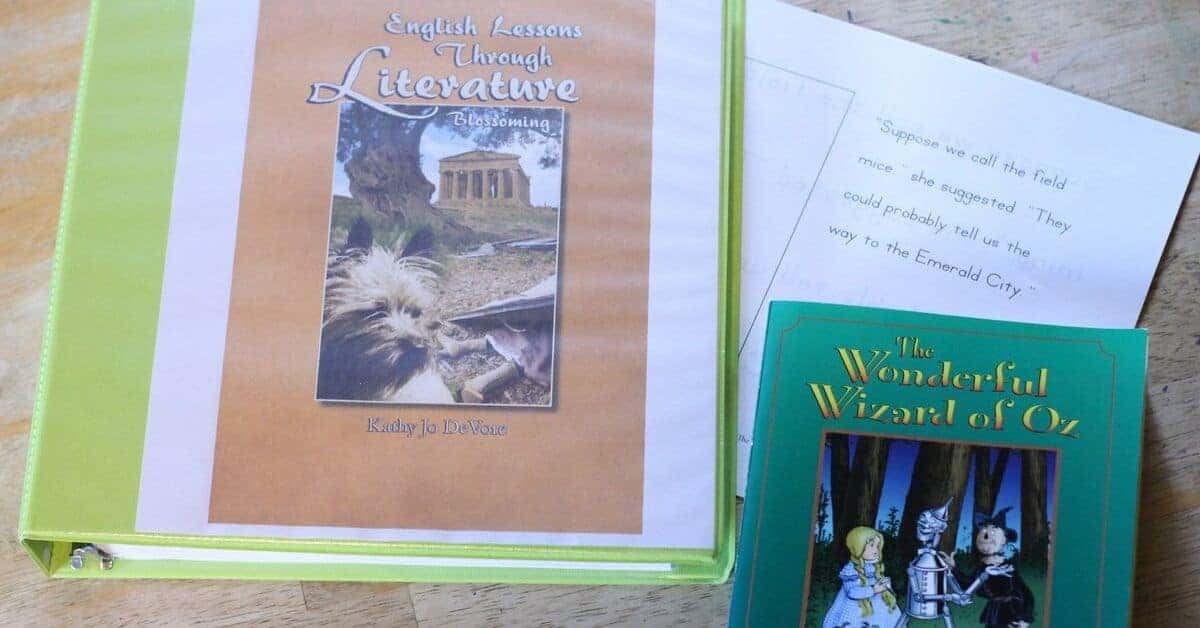 Writing instruction using the progymnasmata
One of the many things that attracted me to English Lessons Through Literature is that it teaches writing using the progymnasmata.
The progymnasmata are a series of rhetorical exercises used since antiquity to teach writing. The exercises are Fable, Narrative, Anecdote, Maxim, Refutation, Confirmation, Commonplace, Encomium, Invective, Comparison, Personification, Description, Argument, Introduction to Law.
In level B, the writing assignments are either copy work or oral narrations which come on a two-week schedule, or every 6th lesson.
You're given a fable to read aloud to your child. Your child narrates the story back to you while you write it down. And then part of the narration is given to your child for copy work.
The beauty of this approach is that writing skills are broken down into small parts. Children aren't expected to come up with an idea, figure out how to say the idea, and then write the idea all at once. Instead, they use a model and you write the narration. All your child needs to do is figure out how to say the idea.
Later they'll learn how to write their own narrations.
The copy work comes from poems included in the lessons or the current literature book.
As an example, my son and I are reading through The Wonderful Wizard of Oz. So his copy work each day comes from The Wonderful Wizard of Oz.
Please keep in mind that English Lessons Through Literature includes a lot of copy work, enough to keep kids who love writing happy. I assign enough copy work to keep my children challenged without being frustrated or overwhelmed.
English Lessons Through Literature B Teaches Grammar
Level B introduces children to grammar. The exercises are pulled from the literature and poetry assignments. And there's a constant review of all information learned. I love the review!
My biggest issue with previous grammar programs is that they didn't have enough review for children to truly master the material. They did the exercises, took the test, and then promptly forgot everything they learned. I was disgusted!
However, English Lessons Through Literature has the kids constantly using the information they learned. It's hard to forget what a noun is when you're constantly finding nouns in the exercises!
A fair portion of English Lessons Through Literature B is the grammar. The children are introduced to the parts of speech, quotations, verbs, letters, phone numbers, initials, commas, and more. It's a well-rounded grammar curriculum.
Diagramming is not introduced in level B, but it is taught at higher levels.
And the exercises are pulled from the literature assignments. The exercises are short and easy, especially as we have the workbook!
I pull out the appropriate workbook page, hand it to my son, and he looks for the day's part of speech. So yesterday his assignment was to find the nouns in this paragraph:
It was some time before the Cowardly Lion awakened, for he had lain among the poppies a long while, breathing in their deadly fragrance.
Once he found a noun, my son then determined if it was a common or proper noun. The constant repetition is really helping!
Today's assignment was to find the six action verbs in this paragraph:
But I spoke to him as he sat behind his screen and gave him your message. He said he will grant you an audience, if you so desire.
What I'm finding is that constant repetition is helping my children's understanding and mastery of grammar.
Spelling and Phonics
Spelling and phonics are not formally included in English Lessons Through Literature B. My daughter, in level D, is doing spelling through studied dictation. However, there are no dictation exercises in level B. Just copy work.
But I've always found spelling and phonics to be problematic for younger kids.
Sometimes kids read and spell easily. And copy work is enough to help cement English spelling in the children's heads at this age.
Other kids are still struggling and need a formal phonics or spelling program.
So my son is using Reading Lessons Through Literature for phonics and spelling. The combination is working beautifully and I'm thrilled with his progress.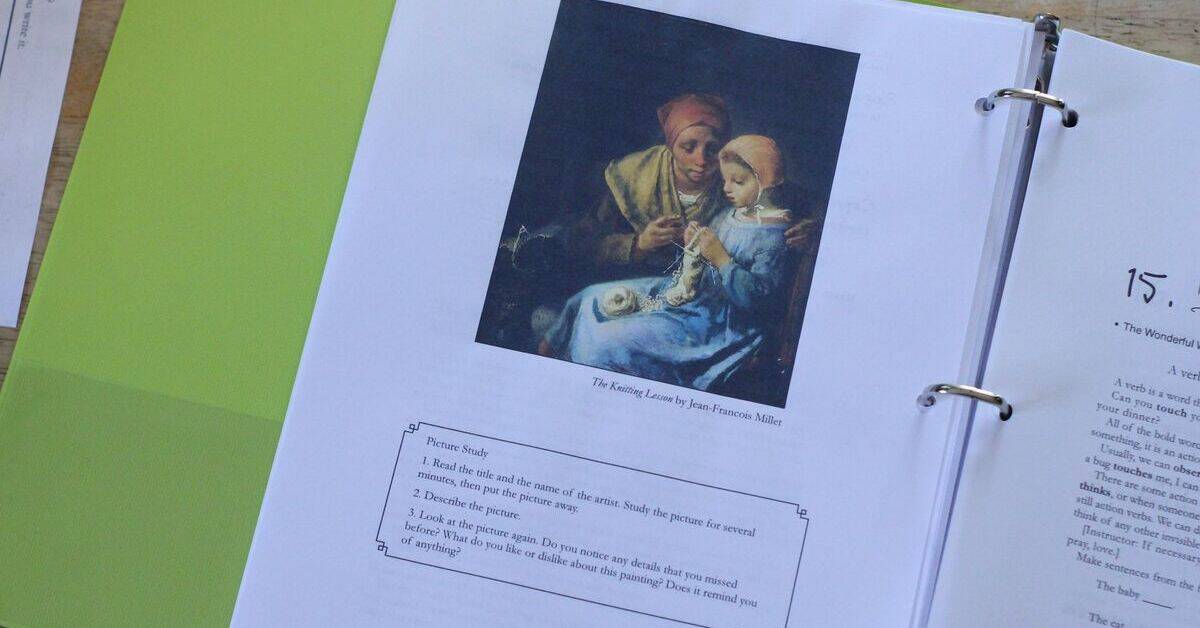 Picture Study
Picture study is folded neatly into English Lessons Through Literature. Starting with the 3rd lesson there is a short picture study for the children every 6 lessons. So on lessons 3, 9, 15, 21…
The children study the picture for several minutes, the picture is taken away, and the kids describe the picture.
Then they look at it again and notice other details. Finally, you and your child enjoy a short discussion about the piece of art.
There are only three artists studied in each level.
Jean-Francois Millet
Winslow Homer
Vincent Van Gogh
The lovely part about there being only three artists is that it's easy for you to supplement with a short study of each artist as you're working through the lessons. But you don't need to supplement.
The picture studies stand on their own!
How the Lessons are Arranged
Most of the lessons in English Lessons Through Literature B follow a similar format.
First, you're given a chapter of the current literature book to read.
The list of books read in level B is delightful. Since my 4th-grade daughter has yet to read them herself, I decided to read aloud the level B books during morning time. This way we all can enjoy the literature together!
Next, there is a short lesson.
The lesson may be about nouns, quotations, verbs, or initials. The lesson is brief and usually includes several examples. I read the lesson aloud to my son, we discuss the concept, and then I use the examples or my own examples to test for understanding of the concept.
We spend about 5 minutes working through the lesson.
Third, there is usually a poem.
Sometimes there's a brief discussion question relating to the poem, but often the poem stands on its own. This threw me for a loop when I first looked at the curriculum.
Because why would there be a daily poem without a corresponding assignment?
And the answer is, for your enjoyment.
I never knew how much fun it is to read a poem as part of our daily English lesson. We read the poem together and quickly chat about the poem for a minute or two.
A daily poem is an easy way to add a touch of beauty to your daily homeschool routine.
Fourth, there is a fable.
The fables used in English Lessons Through Literature B come from Aesop's Fable.
I use the fables to practice narration and comprehension but like the poems, it's up to you as to how you use the fables.
You can use the fables to practice reading skills, use them to practice oral narrations, or simply read them aloud to enjoy the stories.
It's completely up to you!
Fifth, you have the grammar exercise of the day.
This is where you're given a paragraph or so from literature and the kids look for a part of speech. And they practice changing direct quotations to indirect quotations, etc.
Last, you have the copy work assignments.
The copy work assignments come from the literature book, maxims, and poetry. I pick and choose what I assign to my son. But if you have a child who loves copy work, you can assign it all.
Composition Lessons
Every 6th lesson is a composition lesson.
Like the other lessons, it starts with a chapter from the current literature book and you're given instructions on how to do the narration.
Then there's a fable before the poem. You read the fable to your child before you have your child narrate it back to you.
Next, you have a poem.
And then copy work. The composition lessons suggest the copy work come from a part of your child's narration.
Optional Workbook
In addition, I was given the optional workbook which goes along with English Lessons Through Literature B. It's an optional part of the curriculum and you don't need the workbook to be successful.
However, the workbook makes my life so much easier!
Instead of copying out the paragraph from the assignment for my son to mark, the paragraph is waiting in the workbook. All I need to do is to print it and hand it to my son. It even has space for him to draw a picture if he'd like to!
The copy work assignments are prepared as well. All my son needs to do is to copy the sentences below the original. And the PDF version of the workbook includes 5 fonts: slant cursive, vertical cursive, basic italic, cursive italic, and manuscript.
So you can use the font that best matches the penmanship you're teaching your child!
My son and I are loving English Lessons Through Literature B. It's laying a solid foundation for future English studies. The lessons are challenging with adding busywork to our day. The literature is well-chosen. And the poetry is developing a love of the English language.
In short, I have found the English program of my dreams!
More information:
And don't miss my review of English Lessons Through Literature D!